Disney Imagination Campus Blog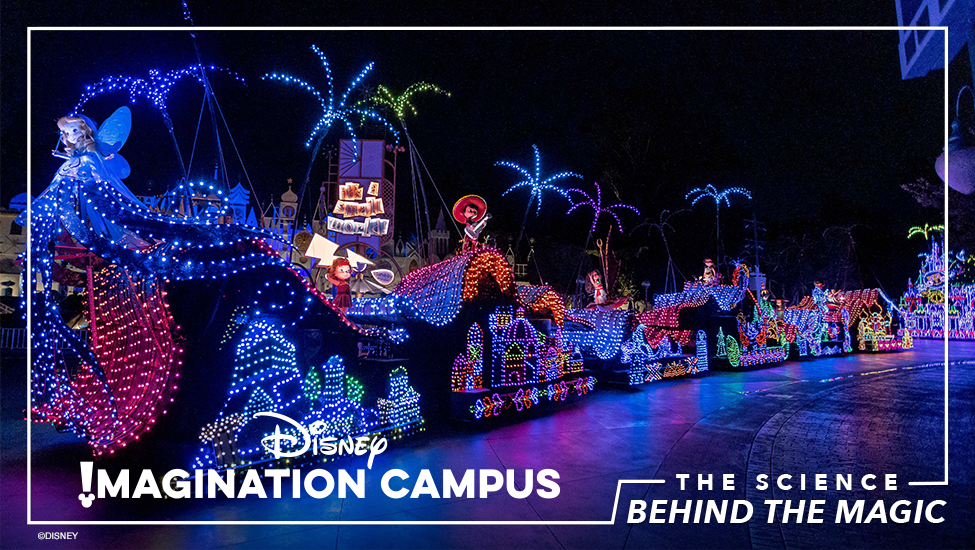 The Science Behind the Magic: Main Street Electrical Parade
In celebration of its 50th anniversary, the Main Street Electrical Parade returned to light up Disneyland Park on April 22nd, 2022. With its return comes a brand-new float celebrating the theme of togetherness, inspired by Mary Blair's design of "it's a small world."
This fantastic display of over half a million lights has gone through its changes over the years, while still honoring the tradition set down by the original designers of this nighttime spectacular.
The evolution of technology allows Disney designers, engineers and technicians to come up with new and innovative ways to bring this production to life. One way this is accomplished is through the use of LED lights to replace old incandescent lighting for some of the floats.
What is it?
Incandescent and LED lighting are two types of bulbs that can be used as a light source in your home, or on a Main Street Electrical Parade float! The LED lightbulb can produce more efficient energy that lasts longer than an incandescent bulb.
How do we use it?
The Technical Directors for the Main Street Electrical Parade sought to implement a more energy efficient solution for the new floats being added to the parade as part of the 50th Anniversary festivities. While the original floats made use of solely incandescent bulbs, the new floats were made using a mix of incandescent and LED lights. This mix of old and new keeps with the theme and look of the traditional Main Street Electrical Parade while also transitioning to new technology that is more energy efficient.
The new LED lights require much less energy than their incandescent counterparts. All lights, audio and special effects on the Main Street Electrical Parade floats are run using battery power. Thanks to the addition of LED lights, parade technicians need to use fewer batteries to power the parade. The LED light lamps used consist of three lighting elements (red, green and blue) which allows the design team to make any color of light they want.
Where do we use it?
LED lights are incorporated onto the new floats that have been added to the Main Street Electrical Parade. For example, the float that features Tinker Bell has a mix of LED and incandescent lighting to bring it to life. This technology allows technicians to have a bit more control over the lighting so they can dim the lights and make them glow brighter at different points in the show. This gives the show a bit more life that a simple on or off switch cannot.
Finally, the brand new float at the finale of the parade uses LED lighting to illuminate over a dozen Disney and Pixar animated stories.
Make sure to stop by Disneyland this summer to discover how lighting technology brings the Main Street Electrical Parade to life every night!
Curious to learn more? Check out the Science & Technology workshops at our East Campus in Walt Disney World Resort and our West Campus in Disneyland Resort for a discovery of the real-world application of science, technology, engineering, art, and math at some of our most popular attractions! Sign up for our e-newsletter to stay up to date on all things Disney Imagination Campus and explore all our academic workshops to see how we inspire imagination-powered learning.