Disney Imagination Campus Blog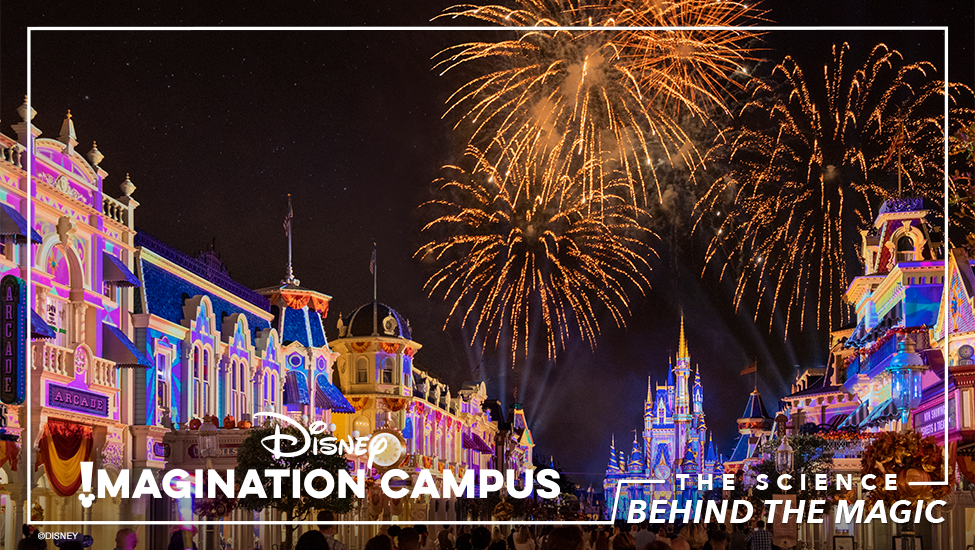 The Science Behind the Magic: Disney Enchantment
In celebration of Walt Disney World Resort's 50th anniversary, Magic Kingdom park comes alive at night with a brand new fireworks spectacular, Disney Enchantment.
Join us as we speak with Aaron Counterman and Tyler Landgraf, two members of the video design team, to explore the science and technology behind Disney Enchantment.
Disney Enchantment was a fantastic opportunity for the design team to be able to reinvent how projection mapping was used on Cinderella Castle and to incorporate it onto Main Street USA.
What is Projection Mapping?
Projection mapping is a technique that uses technology to turn objects and buildings into display surfaces for video projection. Disney Enchantment comes to life with the help of this projection mapping technology, using Cinderella Castle and Main Street USA as its display surfaces.
The projection mapping technology is all operated under a digital 3D model that was created by scanning the castle and Main Street infrastructure. This 3D model allows the design team to map different projectors to different points of surface, therefore, creating better brightness and color in specific areas. This 3D model is extremely important for artists and animators to use when they are off-site in their studios creating content. It allows them to see what the projections are going to look like without them actually being there.
The design process for Disney Enchantment began two-three years before the show opened. Part of this process included working in partnership with the internal content creation team made up of artists and animators who spent a lot of time on the scene in front of Cinderella Castle and Main Street USA doing live input. This means that essentially, the artists were sitting to sketch and draw their ideas for the show on a drawing tablet. Live input allowed them to see in-real-time visually what it was they were drawing.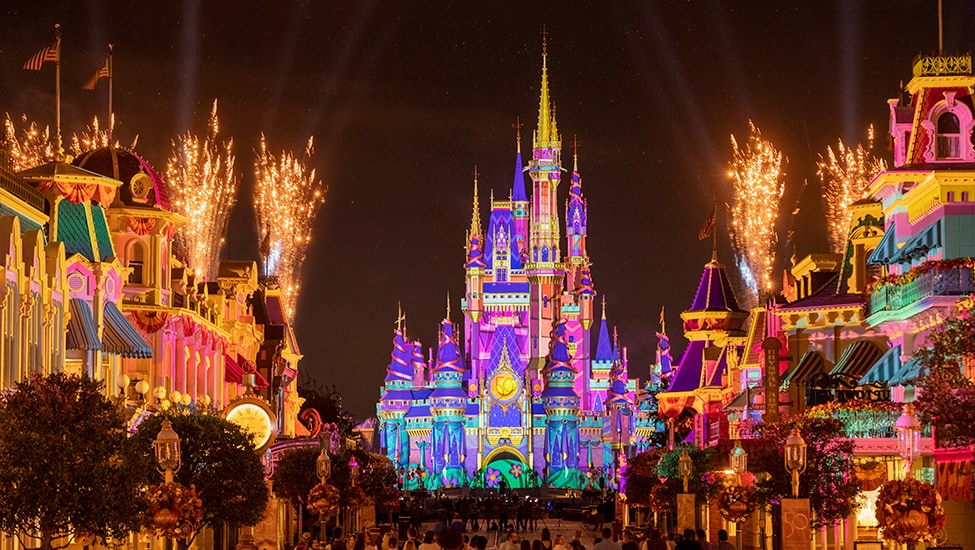 Incorporating New and Innovative Technology
Aaron, Tyler and Grant Robison (the lead Video Systems Designer for the Main Street Project) were able to revolutionize the concept that Disneyland Resort had implemented with 16 projectors for their mapping technology on Main Street USA and were able to put it down to eight projectors in the Magic Kingdom with brighter, better resolution, higher quality imagery in less space.
One challenge they had to overcome was the difficulty in placing these projectors in spaces they were not originally designed to go, while making sure to uphold the integrity of the storytelling so that they were invisible to Guests visiting the park.
In order to achieve their goals, the video designers made use of new technology to place little infrared cameras and small IR beacons all across Main Street that take pictures in real time to capture any small changes in the alignment of the projection. In other words, these beacons constantly emit a position that is locked into the model's space. The computerized system knows where that beacon's position is at all times. That way, when they tell the computer to calculate the projection space, the projection mapping can lock into those locations and send out the specific light pattern by calculating where everything should be in the space that it sees and reapply it to the actual building space.
Main Street is the latest implementation of this technology with Disney Cruise Line's "Frozen the Musical Spectacular" being the first and Cirque du Soleil's "Drawn to Life" being our largest installation of the technology on Walt Disney World property.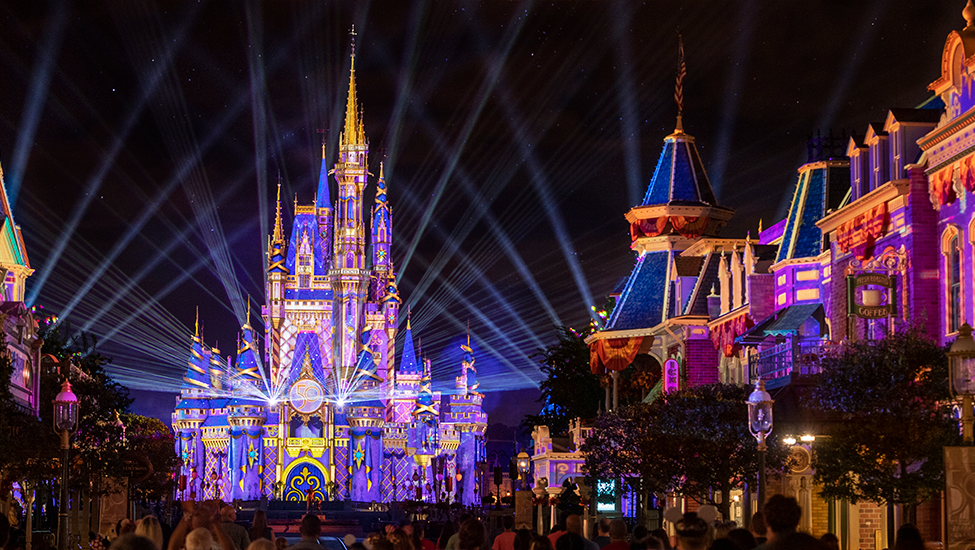 Bring Science, Technology and Innovation to Your Classroom
Students in school can be getting the skills and training right now to prepare themselves for careers in video design technology. Try exploring ways to provide your students with real-world opportunities to gain that experience.
There are many free tools that can be tested and implemented on social media for TikTok, YouTube and Instagram that allow innovative designers to make their own Disney Enchantment shows in a home or classroom. Students can even find internship or volunteer opportunities at local businesses, theatres or churches that provide show production value to get real "on the job training" that would be relevant for a video design job. Even participating in school theatrical productions can give valuable experience in lighting, art and design.
Challenge your students to read some of the free publications about live entertainment and design that will introduce them to new and innovative up-and-coming technology as well as contacts they could begin networking with that will introduce them to the real career world they may one day decide to enter.
Ultimately, the most important thing is to encourage your students in science and technology to never stop learning. The key is to always understand what is coming next. Have a vision that drives your students to continue to look forward, learn from their mistakes and search beyond themselves to explore what could be possible.
Curious to learn more? Check out the Science & Technology workshops at our East Campus in Walt Disney World Resort and our West Campus in Disneyland Resort for a discovery of the real-world application of science, technology, engineering, art, and math at some of our most popular attractions! Sign up for our e-newsletter to stay up to date on all things Disney Imagination Campus and explore all our academic workshops to see how we inspire imagination-powered learning.