Disney Youth Programs Blog
The Science Behind the Magic: Buzz Lightyear's Space Ranger Spin
Listen up, junior space rangers! We have an important mission for you! In order to defeat Evil Emperor Zurg, you'll need to conduct some problem solving to learn how the science of matter and energy helps create the out-of-this-world adventure Buzz Lightyear's Space Ranger Spin at Magic Kingdom Park!
Today, we are going to focus on a hallmark of our Theme Parks – Audio-Animatronics® Figures! Take a look at the science behind the magic to see how these life-like story elements transport our Guests to infinity and beyond!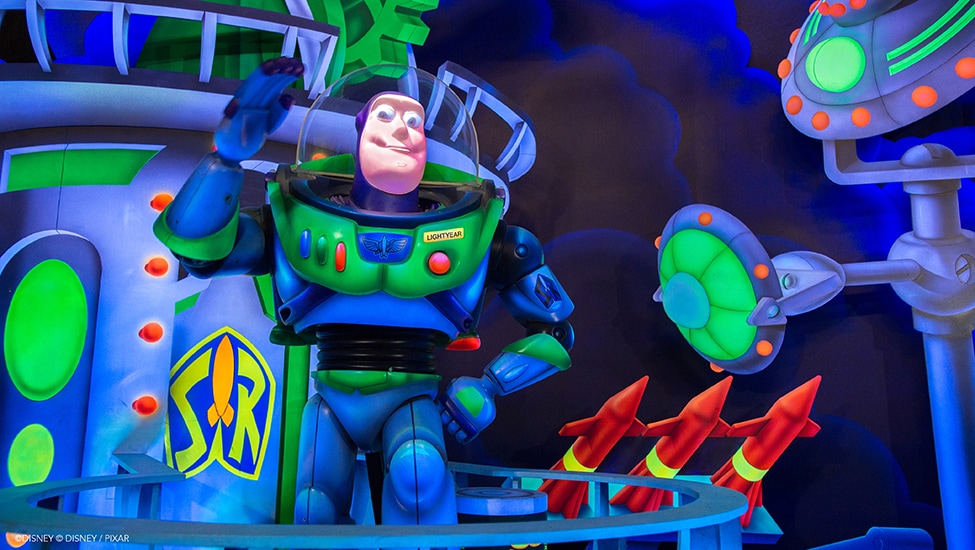 Audio-Animatronics® Figures
What is it? Audio-Animatronics® is a combination of three words: Audio (sound), animation (to have motion), and electronics (devices run by electricity).
How do we use it? Many of our Theme Park attractions contain Audio Animatronic® Figures that help place our Guests into the story we are telling.
Where do we use it? Keep your eyes and ears open for Buzz Lightyear in the queue line. You don't want to miss out on your mission from Space Command! Once onboard your XP-37 Space Cruiser, you can use the joystick to spin around and notice a few other Audio-Animatronics® along your adventure!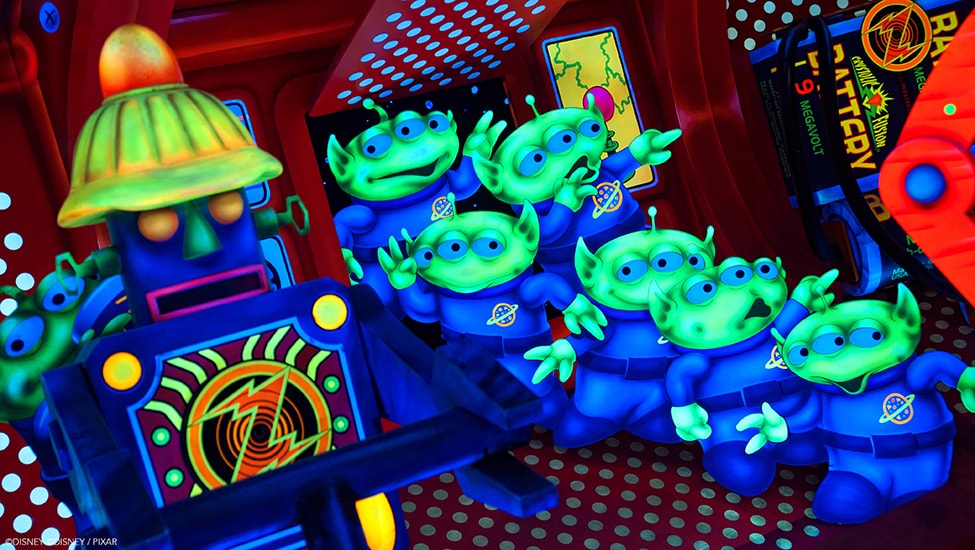 Pneumatic and Hydraulic Devices
What is it? The movement of many Audio-Animatronics® Figures is the result of pneumatic or hydraulic devices. If we use compressed air to create the movement of an Audio-Animatronics Figure, it is a pneumatic device. If a liquid is used, it is a hydraulic device.
How do we use it? The release of compressed air in a pneumatic device produces a single full motion. Hydraulics, the use of fluids to transmit energy, produce motions that are smoother and more life-like. The flow of the fluid in a hydraulic device can be controlled better than compressed air, and this enables a figure to have an extensive range of motion.
Where do we use it? Pay close attention to the movement of the Audio-Animatronic® Figures on the attraction. Since Buzz Lightyear has an extensive range of motion, he is hydraulic. The Alien in a Box and the Crystallic Fusion Power Units move in consistent, repetitive motions and are therefore pneumatic.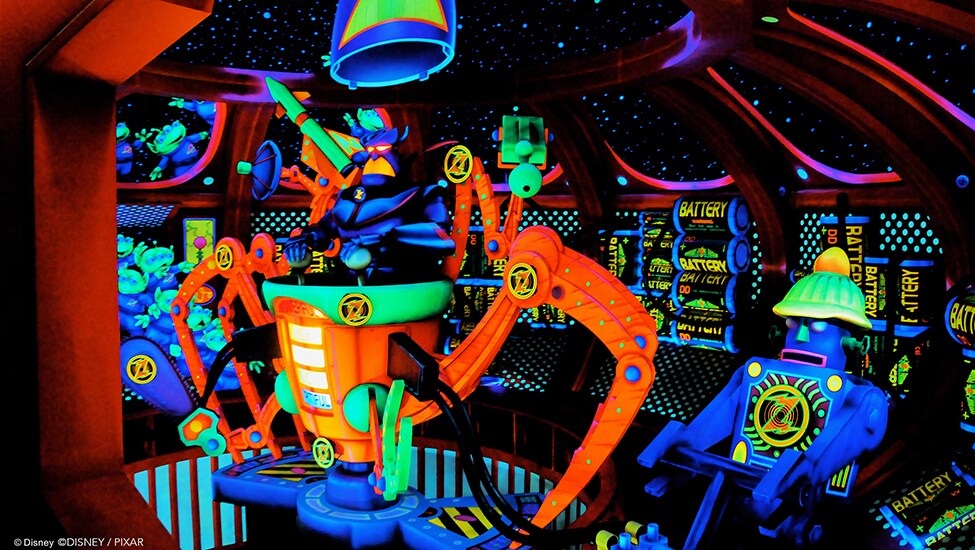 So, next time you experience Buzz Lightyear's Space Ranger Spin, be sure to keep an eye out for physics in action! Who knows? Maybe you too can become a Galactic Hero!
Ready to learn more? Check out the Properties of Motion Physics Lab at Walt Disney World Resort or the Disneyland Resort for a discovery behind the magic at some of our most popular attractions for a real-world application of motion physics, gravity, and much more.
Sign-up for our e-newsletter to stay up to date on all things Disney Youth Programs and be sure to check out all of our Disney Youth Education Series programs where we make our parks your classroom.