Disney Imagination Campus Blog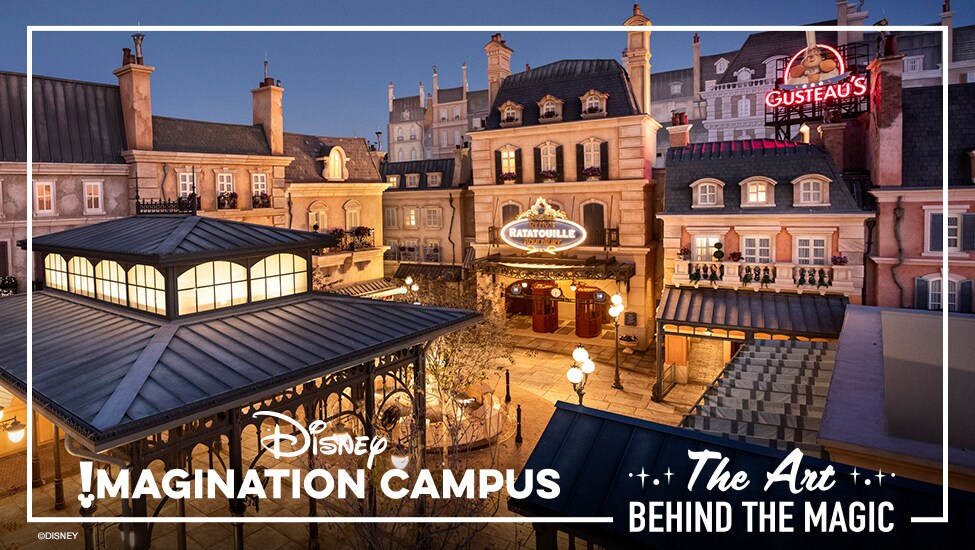 The Art Behind the Magic: Remy's Ratatouille Adventure
Theme park design is a powerful form of artistry and storytelling that immerses guests into an authentic setting, often bringing stories from the big screen into the real world. The artistic design teams at Walt Disney Imagineering and Pixar came together to create the dynamic effects seen in the newest attraction at Walt Disney World Resort, Remy's Ratatouille Adventure.
Let's join Senior Production Designer Joe Vitale with Walt Disney Imagineering, to learn key insights on the concepts of scale, character facades, and area development for this attraction: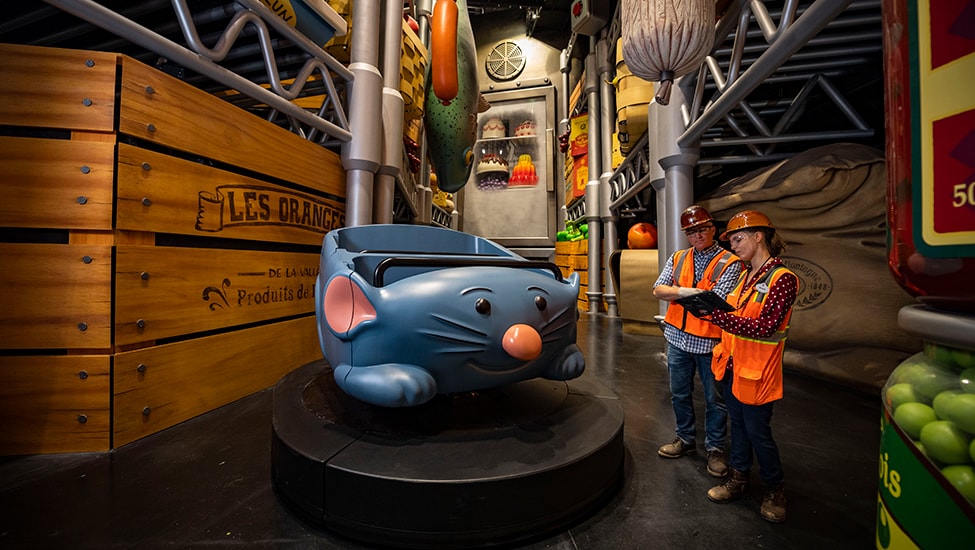 Art Concept #1: Scale
What is it?
JV: Scale, in this case, is used to make our environment feel huge and the Guests feel small! A fun experience on this attraction is feeling like you've actually shrunk down to the size of Chef Remy on a chase through Gusteau's kitchen, so Imagineers used oversized sets designed to integrate with large format 3D media to create the effect. The challenge here is having the physical scenery and the projected media feel seamless to your eye; so you're not sure if you're seeing a projection or a physical piece of scenery, because it's all one environment.
How do we use it?
JV: This effect was achieved in a few ways. First, we employed large scale 3D animation with perspective changes to increase the realism and believability of the action. That helps us tell the story of falling through a skylight with Remy onto the kitchen floor, and having an exciting adventure running through the walls, without actually needing to build out those full sets in the real world.
Then, the design and staging of the scenery were done in tandem with the animation so that the physical scenery is just an extension into the room of the projected digital media. Sometimes the projection is on the front of a surface, and sometimes it's behind, adding to the illusion and immersion of the experience.
Scenic paint, color, and lighting are also important steps in creating the illusion of this larger-than-life world. The trick is to match the paint colors and the lighting to the animation for a seamless transition to have the scene appear as one continuous space.
Where do we use it?
JV: The next time you experience Remy's Ratatouille Adventure at EPCOT, notice all the oversized objects and scenes throughout the attraction, from the Parisian architecture to the kitchen to the massive pantry full of food! You'll experience being in the Ratatouille film world and see everything the way Remy did, from his tiny 'rat's eye' perspective!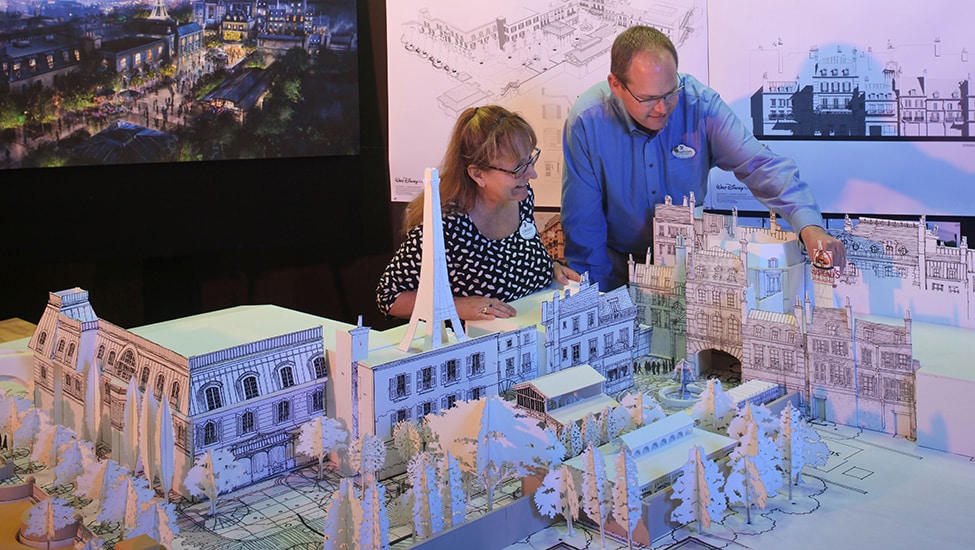 Art Concept #2: Character Facades and Area Development
What is it?
JV: When designing and creating the facades to fit our theme, we pull from our research to make the scene look as realistic as possible, which means researching the history, geography, and architecture of the setting we are hoping to replicate. We want our guests to have as authentic an experience as possible, and capturing all the details just right really puts you in that world.
In the case of Ratatouille, our Imagineering team traveled to Paris, where Remy's story takes place, to see the details that we wanted to capture firsthand. We photographed every little interesting detail, from architecture to textures to street signs and parks. We also documented what materials things were made from and took keen notice of sounds and smells that helped to round out the world that we wanted to build for guests to experience. Building a physical representation of Remy's Paris meant we had to think about every surface. Unlike in the film where viewers only see the frame in two dimensions, theme park guests will move through these worlds in real life. They can see and sometimes touch our work from all different perspectives.
We also worked closely with our partners at Pixar to understand all the thought that went into creating the version of Paris seen in the film, because Remy's Paris is a little more exaggerated and whimsical than the one in real life. We wanted to put guests right into the world of the film for the most authentic experience, so layering the Pixar filter over what we learned on our research trips took us to the next level of detail and design.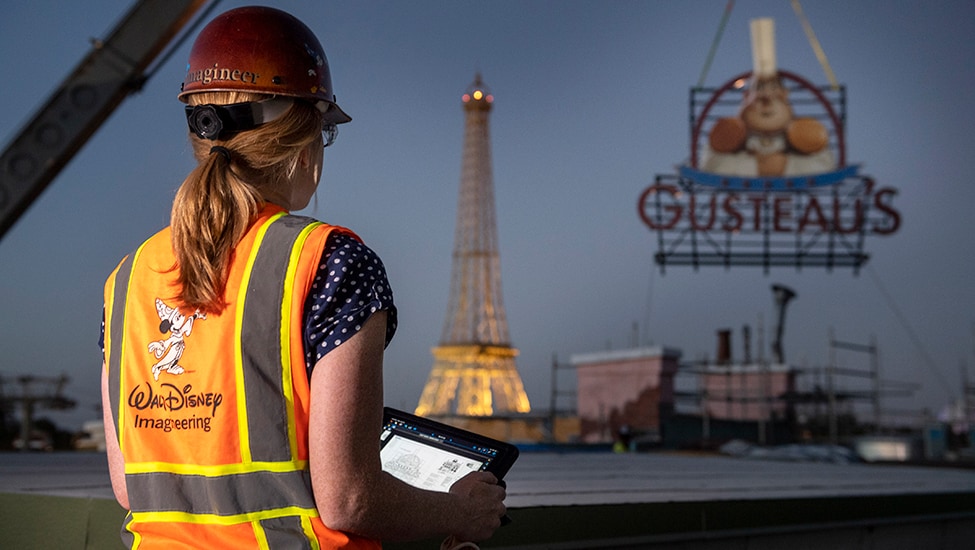 How do we use it?
JV: Paris is a very old city, so things will have 'moved' and settled over the years. Nothing is straight; buildings are leaning and sagging due to the weight and gravity over the years. Things are also handmade, so anything too perfect or machined would look out of place in our land. Our character plaster team hand carved all the facades taking this into account.
There is a color story to develop as well. The Paris sky is very different from the Florida sky in terms of color, so our team worked to develop colors based on Paris, but modified to work in our environment at EPCOT. Everything has multiple layers of paint 'aging', so that the world we just built feels as if it's been there all along.
We then add the layer of Remy/ Pixar's Paris that celebrates all those imperfections and highlights them, making them more fun in stylized and whimsical ways. We take a lot of time in design and creating samples of all these elements to be sure we match our original intent in making things perfectly imperfect.
Where do we use it?
JV: Have fun finding all the small details that were custom-built for Remy's Ratatouille Adventure! You will quickly start to realize that everything from the building, to the queue, to the artwork, to the ground you are walking on is authentically designed and themed to match what you would see on an adventure in Paris – from Remy's perspective!
The next time you experience Remy's Ratatouille Adventure at EPCOT, take a moment to reflect on the art behind the magic of this attraction. Don't forget to enjoy all the small details from Remy's point of view! Au revoir!
Ready to learn more? Check out the Arts & Humanities workshops at our East Campus at Walt Disney World Resort and our West Campus at Disneyland Resort for a discovery of the real-world application of the art, design, and storytelling behind our most popular attractions! Sign up for our e-newsletter to stay up to date on all things Disney Imagination Campus and explore all our academic workshops to see how we inspire imagination-powered learning.