Disney Imagination Campus Blog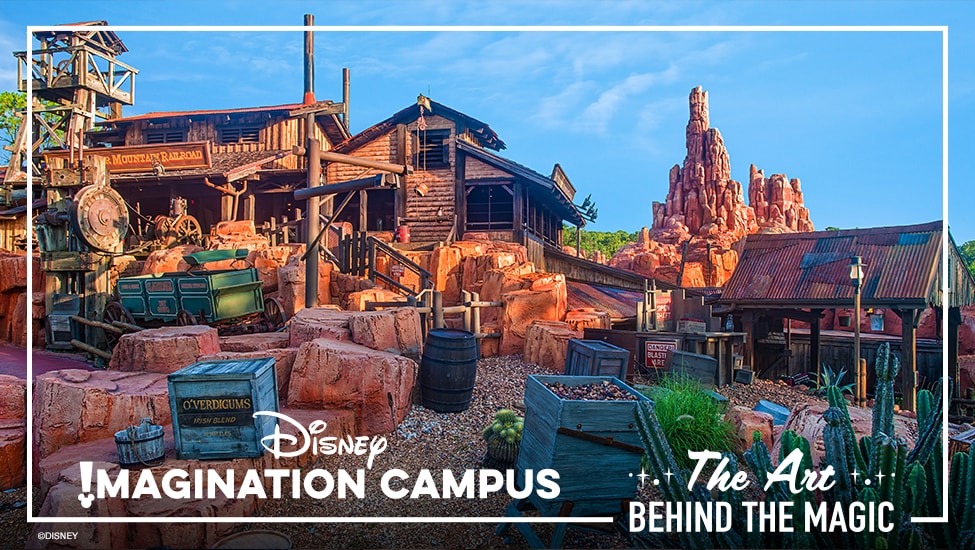 The Art Behind the Magic: Explore the Storytelling Behind Big Thunder Mountain Railroad
Howdy folks, and welcome to Big Thunder Mountain Railroad – the wildest ride in the wilderness!
When you come visit this amazing attraction at the Magic Kingdom, you can't help but notice the incredible detail that completely immerses you into the gold rush times of the American Southwest during the late 1800s.
Let's take a quick look into the storytelling behind this fun coaster attraction!
Barnabas T. Bullion founded the Big Thunder Mining Company in the hope of discovering gold inside the mountain. Walking through the queue, there is a picture featuring B.T. Bullion as the proprietor of the company as well as many mining tools and equipment that are real artifacts from the 1800s. There are even viewing ports that allow Guests a peek into the mine shafts.
Before long, inexplicable things started happening on the mountain that disrupted the digging. The miners were continually plagued by strange forces and natural disasters. Bullion was warned that the mountain was protected by a mysterious force. But in his thirst for gold, Bullion ignored their warnings.
Under inexplicable circumstances, a flash flood wiped out the quaint town of Tumbleweed that had sprung up from the miners and their families who had settled in the area.
So, Guests riding Big Thunder Mountain Railroad today are riding the mysterious mine trains that continue to zip in and out of the mine – directed only by the mysterious forces that protect the mountain.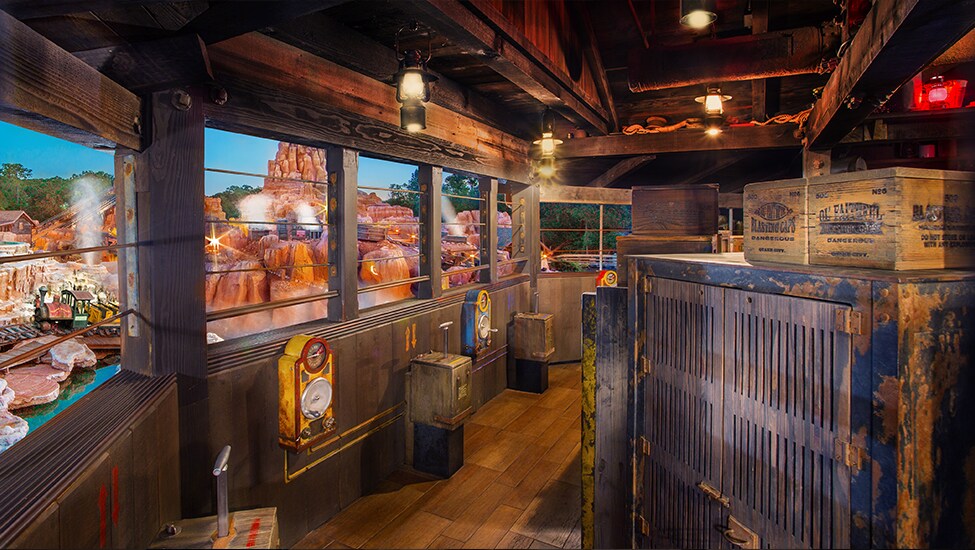 Walt Disney Imagineers designed Big Thunder Mountain Railroad to fully immerse Guests into the story of the ride. They built a living environment to tell this story through all 5 senses.
As you walk through the queue and ride the coaster, what do you see, hear, touch, smell and even taste that brings this story to life?
Observe the miner tags hanging from the wall to mark the gold that each miner found. Hear the gears grinding and blasters exploding the dynamite used to dig into the mountain. Try your hand at cranking and charging the blasters to help miners excavate the mines. Smell and taste the smoke in the air from the blasters blowing holes into the mountain.
Every detail is hand crafted to create a living story that Guests step into the moment they enter the queue.
Next time you visit, try to observe all the details that contribute to the storytelling of this attraction!
Plus, watch this video to dig deeper into the storytelling of Big Thunder Mountain Railroad:
Ready to learn more? Check out the Arts & Humanities workshops at our East Campus at Walt Disney World Resort and our West Campus at Disneyland Resort for a discovery of the real-world application of the art, design, and storytelling behind our most popular attractions! Sign up for our e-newsletter to stay up to date on all things Disney Imagination Campus and explore all our academic workshops to see how we inspire imagination-powered learning.