Disney Imagination Campus Blog
Students Explore Unlimited Leadership Possibilities with Disney Imagination Campus
The next time you visit Disneyland or Magic Kingdom at Walt Disney World Resort, take a break from the parades, Mickey Ice Cream bars, and thrill rides to look up at the windows on Main Street U.S.A. There, you will find a veritable Who's Who of Disney history, including some of the company's most beloved leaders, from early Imagineers, to CEOs, to Walt Disney himself. You may be tempted to ask yourself: What makes a great Disney leader?
Strong leadership and teamwork are the very heartbeat of Disney's success, the invisible thread weaving magic throughout every aspect of the Guest Experience. But how do Cast Members become world-class leaders and team members? Greatness comes by constantly applying curiosity, imagination, and creative thinking to problem-solving.
Disney Imagination Campus offers students a myriad of opportunities to grow in specific disciplines such as Science & Technology, Arts & Humanities, and Performing Arts. But no less important are the abilities to lead and collaborate across all disciplines. Enter the Leadership & Innovation curriculum at Disney Imagination Campus.
From exploring the company's core values as outlined in Disney's Five Keys of Excellence, to stepping into the shoes of Disney leaders to be given the opportunity to solve real-world problems, the Leadership & Innovation curriculum offers students the chance to work together, learning along the way that diversity of thought is often a team's greatest asset.
In our learning laboratory of the Disney Parks, students build their own skills and confidence through a series of exercises specifically tiered to their grade level. Through entertaining and engaging interaction, participants will experience the interdependence between Cast Excellence, Guest Satisfaction, and Business Results—and how each is crucial to the success of the others.
In two immersive workshops, students take a deeper dive into each of the pillar's components: leadership and teamwork.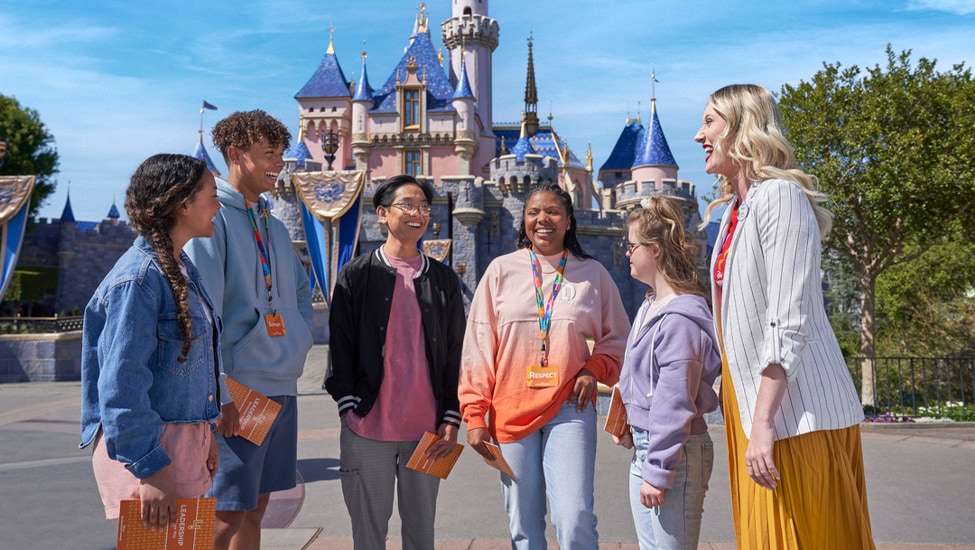 Gain real-world business experience as current Disney leaders teach the principles they apply every day as they strive to create cast excellence and business success while exceeding Guest expectations.
Learn the Disney philosophy and strategies behind high performing teams and experience first-hand how collaboration and openness enable teams to overcome obstacles and achieve the ultimate goal...making magic for our Guests every day.
Disney Imagination Campus aspires to be the leading student enrichment provider for educators who believe that imagination and creativity should be part of every student's educational experience.
Contact a Disney Imagination Campus representative by submitting a request for information about our programs at Walt Disney World Resort, Florida, and Disneyland Resort, California. Sign up for our newsletter to keep up with our latest news and course information.