Disney Imagination Campus Blog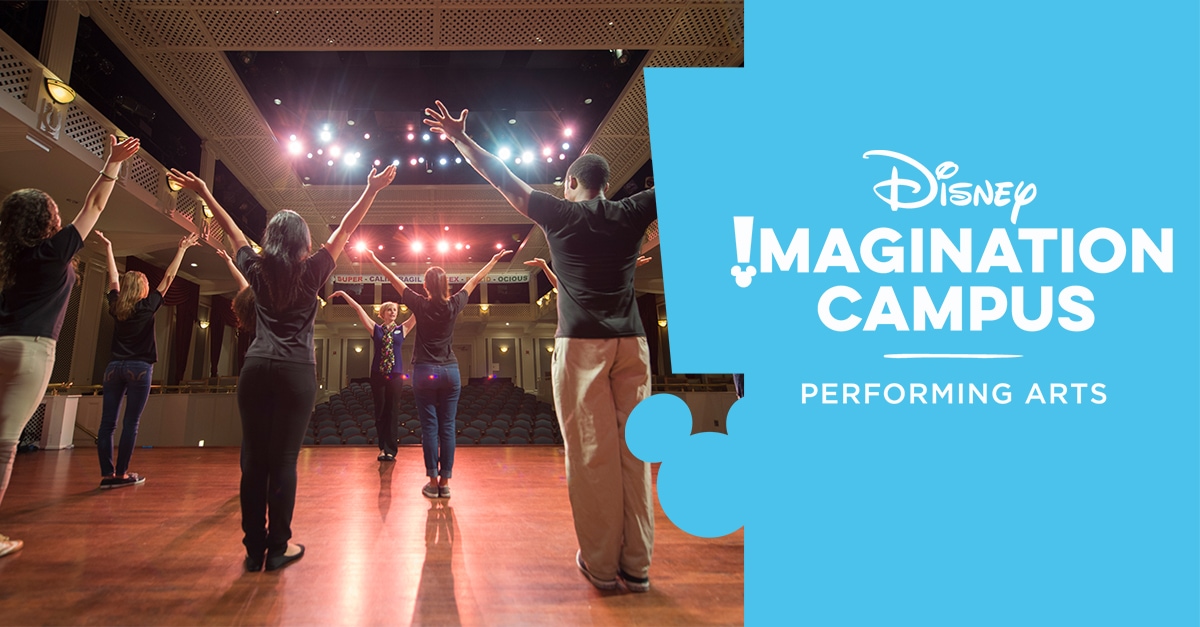 Reach for the Stars with Disney Imagination Campus Performing Arts Curriculum
What does it take to be a Disney entertainment professional? Spend a day in a Disney Park and you'll have endless opportunities to see artists who dance, sing, play instruments and act through shows, parades, concerts, character interactions and more. Such a wealth of talent immerses guests in stories, delights audiences and can truly inspire them to believe that their dreams really can come true.
If you're an educator who is excited to expose students to best-in-class performers across a myriad of disciplines within the performing arts, look no further than the Performing Arts curriculum through Disney Imagination Campus, with its model of imagination powered learning.
Through a series of workshops, performance opportunities and Festival Disney, students are invited to sharpen their crafts as they stretch and grow to meet exciting new challenges. As students take part in a workshop, stage performance or festival, they're treated as working professionals and will learn what it's like to rehearse and perform, guided by real working artists, and to adapt to unfamiliar surroundings and new faces. Learn more as you explore the exhilarating and challenging opportunities listed below.
Workshops

Soundtrack Sessions: Instrumental
Hone fundamental skills like intonation, balance and tone quality, while learning how phrasing, dynamics and articulations can add emotion to any piece of music. Disney music professionals will share the high expectations of being a professional musician and how to succeed in the field.

Soundtrack Sessions: Vocal
Performers will unlock the magic of storytelling through iconic soundtracks from Disney films. They'll be immersed in a recording studio environment where they will sight-read music and learn how to analyze their own performances.

Dance Disney
Performers will discover how to create movements that tell a compelling story and immerse their audience into the story through choreography and staging techniques from one of the many shows performed at Disney Parks across the world.

Disney Broadway Magic
Performers will learn a scene from one of our world-famous shows that combine singing, dancing and acting. At the end of the workshop, they'll take to the stage for a show-stopping final performance.
Performance Opportunities

Performances
In addition to exciting workshop options, students can also perform in Disney Parks! During Marching Band Performances, your marching band will take part in the time-honored tradition of marching down one of Disney's iconic parade routes. Stage Performances welcome ensembles to perform on the very same stages where world-class Disney entertainers perform.

Festival Disney
Festival Disney at Walt Disney World Resort, Florida offer groups even more opportunity for refining their talents. Your instrumental or choral ensemble can gather with other like-minded educators and students from across the country who seek to challenge themselves to be their very best. Nationally recognized adjudicators provide all ensembles with positive feedback with the goal of helping young artists take their talents to new heights. Both competitive and non-competitive options are available.

Disney Imagination Campus aspires to be the leading student enrichment provider for educators who believe that imagination and creativity should be part of every student's educational experience.

Contact a Disney Imagination Campus representative by submitting a request for information about our programs at Walt Disney World Resort, Florida, and Disneyland Resort, California. Sign up for our newsletter to keep up with our latest news and course information.