Disney Imagination Campus Blog
Discover STEAM Workshops for Student Groups at Disney Parks
Explore our learning laboratories to discover real-world learning in action.
At Disney Imagination Campus, we believe in the transformative power of Imagination Powered Learning to inspire students. Through our diverse curriculum, we aim to ignite a passion for learning and foster creativity, helping students unlock their full potential. By using the enchanting Disney Parks as their classroom, students embark on a journey of discovery, where real-world applications of classroom concepts come to life, opening doors to limitless possibilities in their educational journey.
Our workshops are designed to emphasize STEAM learning, with a focus on four pillars of content: Science & Technology, Arts & Humanities, Leadership & Innovation, and Performing Arts. Through engaging experiences in each of these areas, students not only learn about the world but also about themselves, gaining the skills and knowledge needed to thrive in an ever-changing future. Disney Imagination Campus is where learning knows no bounds, and imagination knows no limits.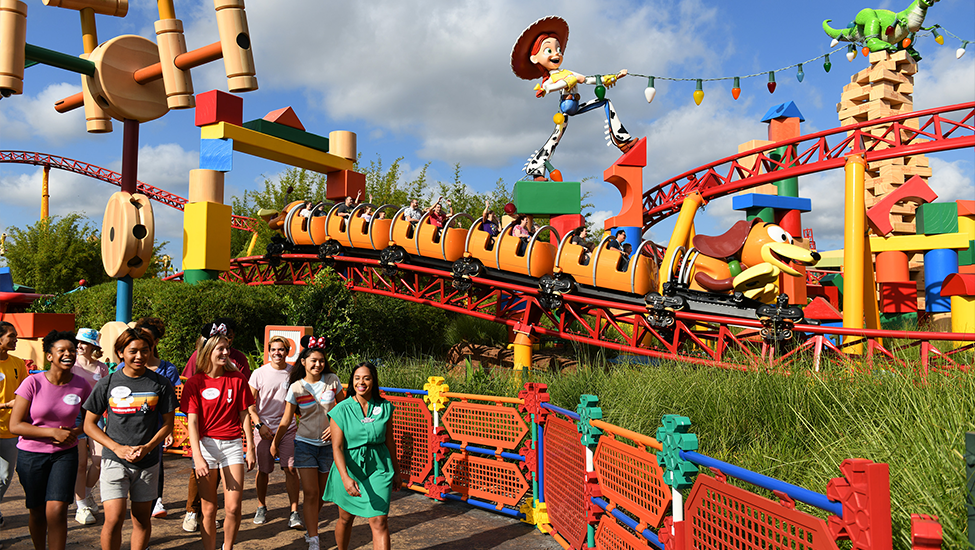 Discover the science behind your favorite Disney theme park attractions at the greatest science laboratories in the world – the Disney Parks!
At Disney Imagination Campus, our Science & Technology curriculum offers the best of high-tech, low-tech, multidisciplinary, and experiential learning opportunities that teach students to become both creative and critical thinkers. Students will learn from Walt Disney Imagineering – one of the world's most creative organizations – how science and technology are used to create attractions like Incredicoaster, Millennium Falcon: Smuggler's Run and The Twilight Zone Tower of Terror™.
Physics of Disney Parks: Spark student's curiosity by putting them into the shoes of Disney Imagineers as they explore how the laws of physics are applied to every element of the theme park experience.
Technology of Disney Parks: Get an inside look at how our Disney Imagineers dream, design and put their storytelling skills and practice techniques to use in order to bring beloved Disney characters and stories to life.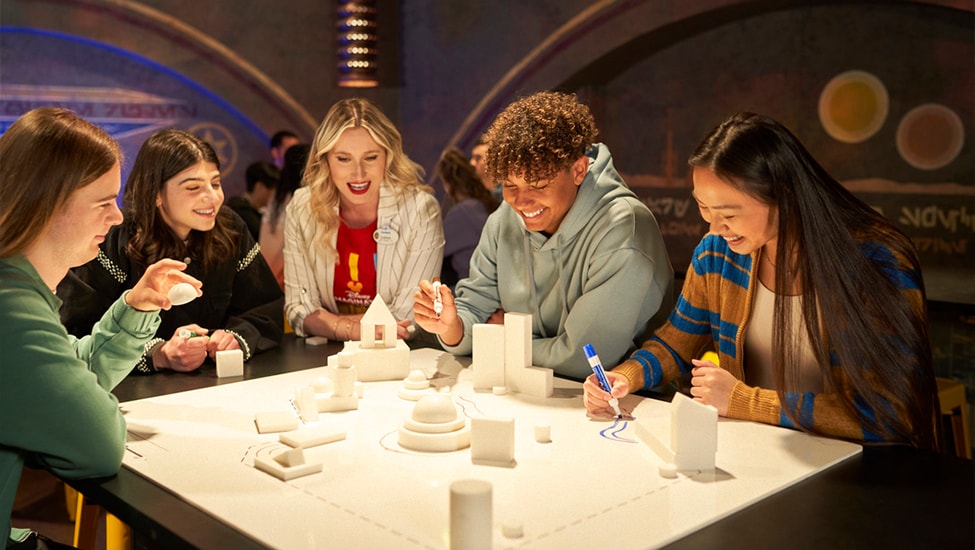 Our Arts & Humanities curriculum offers students the opportunity to learn the art of storytelling, both in front of and behind the scenes at Disney theme parks.
Students will see how Disney storytelling has evolved from the early days of the company to the present through an exploration of advancements in science, technology and the arts. They will learn how these advancements help to inspire a diversity of thinking and creativity that leads to innovation in the lands, areas and attractions in our theme parks. Plus, they will discover how Disney Imagineers create totally unique attractions and experience by expanding on the stories from some of your favorite brands like Pixar, Star Wars and Marvel.
Immersive Storytelling: Discover how storytelling is at the heart of theme park design – and learn a few tricks of the trade.
Theme Park Design: Uncover the concepts, philosophy and tools Disney Imagineers use to bring our theme parks to life.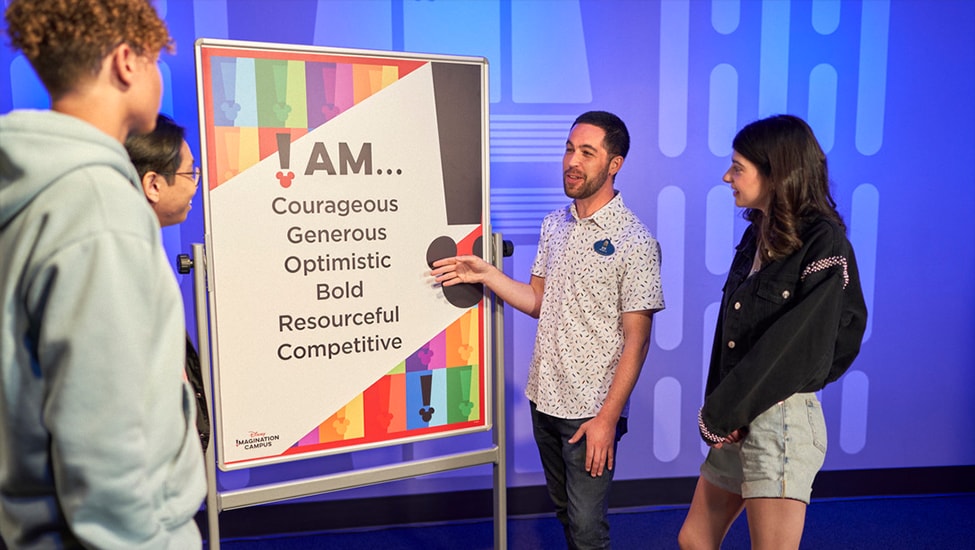 At Disney Imagination Campus, our Leadership & Innovation curriculum allows students to examine the learnings and challenges that many current leaders and even Walt Disney himself have faced while striving to ensure that Disney continues to excel in innovation, imagination and Guest satisfaction.
Our curriculum is customized to encourage students to embrace the creative process and develop independence in thought and action. By celebrating differences and prizing originality, we hope to inspire students to not only consider Disney careers, but also to become future leaders who share a common passion for knowledge, global vision and innovation.
Leadership the Disney Way: Gain real-world business experience as current Disney leaders show you the principles they apply every day as they strive to create cast excellence and business success while exceeding Guest expectations.
Teamwork the Disney Way: Learn the Disney philosophy and strategies behind high performing teams and experience first-hand how collaboration and openness enable teams to overcome obstacles and achieve the ultimate goal: making magic for our Guests every day.
Disney Leadership Assembly: Explore unique leadership styles and qualities through a series of interactive activities and exercises – including an exciting behind-the-scenes look into Walt Disney's own career and leadership techniques.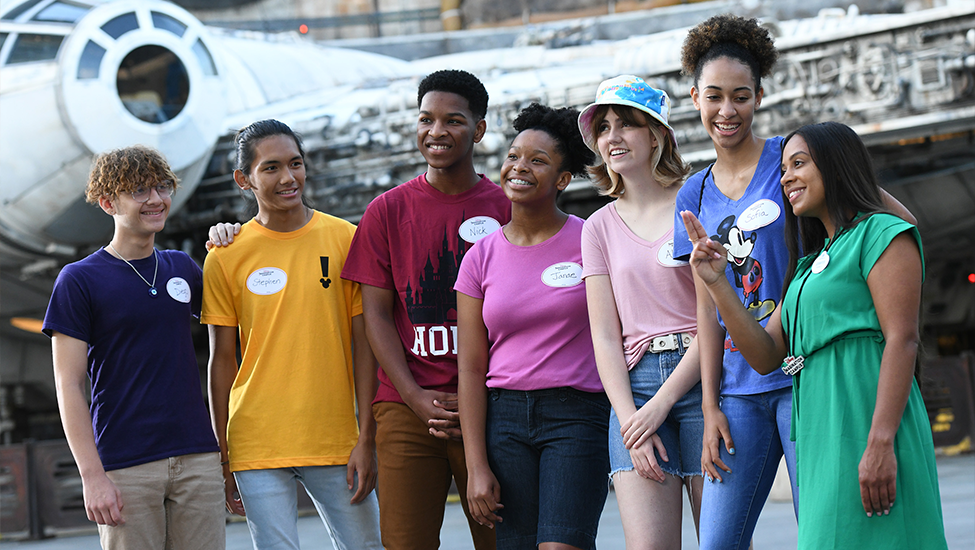 Come and be a part of Disney Imagination Campus to experience our engaging, hands-on immersive learning laboratories. Through these experiences, we aim to equip each individual with the tools, knowledge, and skills they need to reach their full potential and excel in their educational journey.
Ready to learn more? Check out our workshops in Arts & Humanities, Science & Technology, Leadership & Innovation and Performing Arts at our East Campus in Walt Disney World Resort and our West Campus in Disneyland Resort for a discovery of real-world application of these concepts in our popular parks and resorts. Sign up for our e-newsletter to stay up to date on all things Disney Imagination Campus and explore all our academic workshops to see how we inspire imagination-powered learning.